Pann: Legendary sayings of idols
Bigbang Taeyang - "Even if it's not Bigbang's music, I hope you guys listen and enjoy all kinds of music in the world. That's why I stand and sing on the stage."
SHINee Taemin - "I feel thankful for the present, and I'm happier today than yesterday."
Bigbang G-Dragon - "If you work hard but still fail, you have to know how to get over it. Nothing is stupider than regrets."
B1A4 Jinyoung - "Do you know how sorry I am because all I can say is 'thank you'?"
Bigbang Daesung - "Miracle will happen if you embrace hopes"
Infinite Dongwoo - "Have you felt threatened during your two years in a group? We never felt threatened. All we had were chances and hopes."
B2ST Junhyung - "Hatred is harmful for your body"
2AM Seulong - "You have to work happily. You have to do it without even realizing the time."
Infinite Woohyun - "It's not going to be a happy-ending. It's going to be a never-ending, I love you Inspirits."
Block B Zico - "You have a blessed life if your days are packed and you have no time to breathe due to busy schedule"
Block B Zico - "You don't built trust by your lips"
Super Junior Eunhyuk - "What's scarier than antis is people you love choosing to leave you"
SHINee Key - "You'll have no regrets if you do it on the right timing"
Super Junior Sungmin - "I hope my people always win"
Super Junior Kangin - "I didn't start fighting just to be #2"
2AM Jinwoon - "There's no answer"
Super Junior Heechul - "Flowers can't live without beautiful flower leaves"
Wonder Girls Sunye - "I've waited 19 years to see you guys"
Bigbang TOP - "I'll work hard not to be a fading star"
B2ST Yoseob - "The reason why I chose to sing is not because I wasn't good at studying, it's because I'm confident with singing. Look for your talent and choose the path you're confident with. That's the right thing."
B1A4 Sandeul - "Bana for Sandeul? Someone who makes my heart flutter no matter how many times I see them"
ZE:A Heechul - "It's hard in the beginning, but just start thinking it's happy."
ZE:A Siwan - "Because it's my first, because I don't know, I have the right to be ignorant. I just have to learn it."
SNSD Taeyeon - "I live because it's hard to live. Funny, huh? Find strength."
Infinite Sungyeol - "Thank you for your love. It's my turn to learn."
Infinite Woohyun - "I have nothing if I collapse here. I have to face it and win it."
Infinite Sunggyu - "Music is the reason why I live"
Infinite Sunggyu - "Thinking coldly, but warmly in your heart"
B1A4 Jinyoung - Q) The moment you're the most thankful for your fans? "Honestly, it's hard to choose a specific moment. I thank and love them all the time."
Infinite Sunggyu - "How are we and fans celebrities? We're a family"
Bigbang TOP - "Facing the fear for your desperate wish, that's bravery"
SNSD Taeyeon - "You don't say sorry to your lover"
2AM Jokwon - "Today is a long day. That's why I'm thankful."
Infinite Sunggyu - "Always be happy until your heart turns cold"
Bigbang Seungri - "Bet on your life and fight it. If you don't give up, your dream won't ignore you."
SHINee Jonghyun - "If you don't understand my life in a song, then it's not a song, it's just a voice coming out of my throat."
Block B Zico - "If your crutches are shitty, you need the courage you throw them out and walk"
Shinhwa Dongwan - "Shinhwa is not responsible for your lives"
B1A4 Jinyoung - "I'm sorry because all you can do is standing beside the singers who don't even win #1"
B2ST Dongwoon - "You need to have the mindset of your debut days. That's the best qualification."
B2ST Kikwang - "There's no improvement if you don't try. You're over if there's no improvement."
Super Junior Leeteuk - "Not END, but AND"
B2ST Junhyung - "Some say they're hurt by us being called 'recycled' but I think it means that we're experienced"
Infinite Sunggyu - "Be confident. No one will trust you if you don't trust yourself."
Infinite Dongwoo - "There's said to be a thread between a person and a person. The color of the thread and the thickness of it, I think it depends how you act to the person. If you don't cut the thread, we won't cut it, either."
=
1. [+170, -46] I don't want to say "please always love me." I'm thankful as long as the fans would think, "I used to like SNSD Seohyun" when they're reminded of these moments. It means that I'm a part of their lives. I won't forget this love - SNSD Seohyun
2. [+141, -59] I can see Dongwoo's kind personalities in his saying
3. [+135, -47] Chanyeol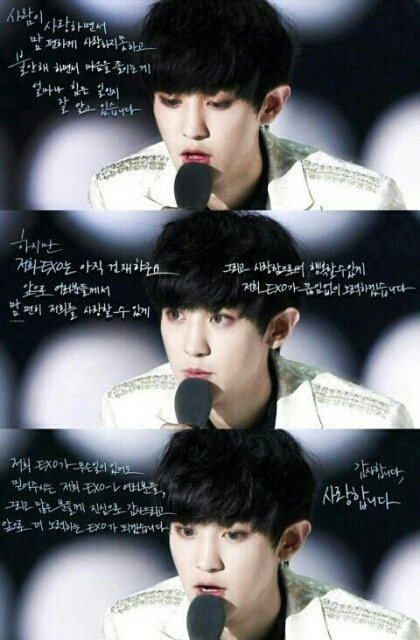 "Not being able to love comfortably, being nervous with your heart pounding, I know how hard it is. But us EXO is still here. We EXO will work hard to let you guys love happily and comfortably. EXO-Ls who trust EXO no matter what happens, and everyone, I thank you honestly. EXO will work harder. Thank you, love you."