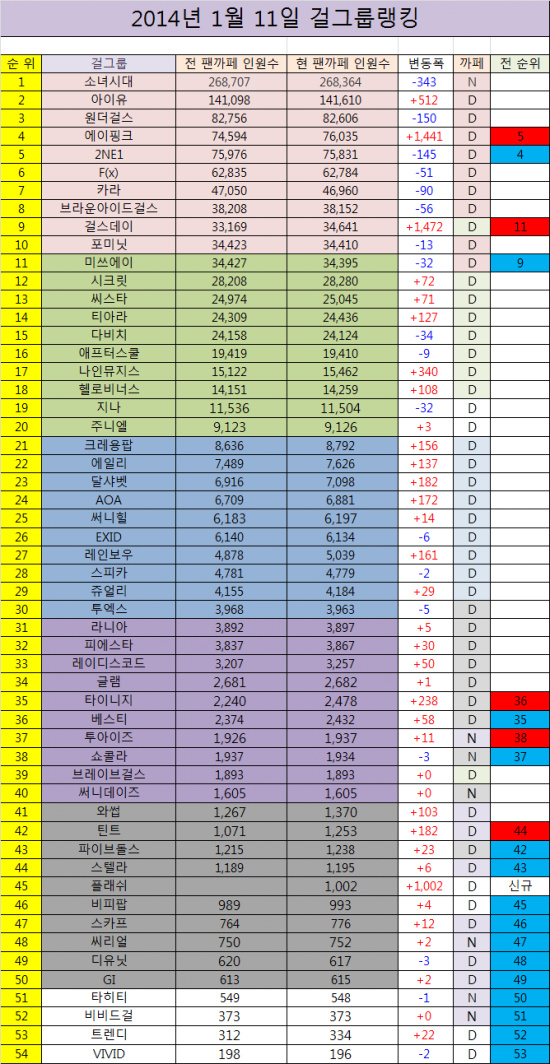 2014 January 11 Girl Group Ranking
1. Girls' Generation
2. IU
3. Wonder Girls
4. A Pink
5. 2NE1
6. F(x)
7. Kara
8. Brown Eyed Girls
9. Girl's Day
10. 4Minute
11. MissA
12. Secret
13. Sistar
14. T-ara
15. Davichi
16. After School
17. Nine Muses
18. Hello Venus
19. Gina
20. Juniel
21. Crayon Pop
22. Ailee
23. Dal Shabet
24. AOA
25. Sunny Hill
26. EXID
27. Rainbow
28. Spica
29. Jewellery
30. TwoX
31. Rania
32. Fiesta
33. Ladies' Code
34. Glam
35. Tiny-G
36. Bestie
37. Two Eyez
38. Chocola
39. Brave Girls
40. Sunny Days
41. Wassup
42. Tint
43. Five Dolls
44. Stella
45. Flash
46. BB Pop
47. Scarf
48. Cereal
49. D-Unit
50. GI
51. Tahiti
52. Vivid Girl
53. Trendy
54. VIVID


=

[+90, -27] IU is amazing. SNSD has 9 charms but IU has that many fans with just one charm. What makes Wonder Girls amazing too is that they haven't promoted for long but they still have that many of fans, it's cool and respectful

[+74, -27] IU is a soloist but she's still the second, that's amazing. Fighting IU

[+70, -78] A Pink ♥♥♥♥

[+45, -2] Wonder Girls is amazing. They haven't promoted for a year and a half but still on third... IU is a soloist so exclude her... The "two tops" of girl group is still SNSD and WG since 7 years ago...

[+42, -49] IU and SNSD is amazing but A Pink is daebak... considering their debut year ㅋㅋ Is it because of the A Pink news?

[+32, -1] wow SNSD IU Wonder Girls A Pink 2NE1 F(x) I like them all

[+30, -2] Wow Wonder Girls is still on third???? amazing... Girl's Day did get much more popular... Their rank went up the most... wow~ But isn't weird to include female soloists into a girl group list? It actually says "group"???

[+25, -2] Girls' Generation